Becoming a surrogate is HUGE! Many of the staff here at Canadian Fertility Consulting have been Surrogates themselves! So we know firsthand how amazing becoming a surrogate can be. We also know how much goes into the decision, and the steps that come with signing up, and getting matched!
For people interested in learning about surrogacy and becoming a surrogate, we've put together some of the steps to get started in this easy-to-read guide!
Step 1. Do you qualify for surrogacy?
The first step in becoming a surrogate is to check out some of the surrogate qualifications.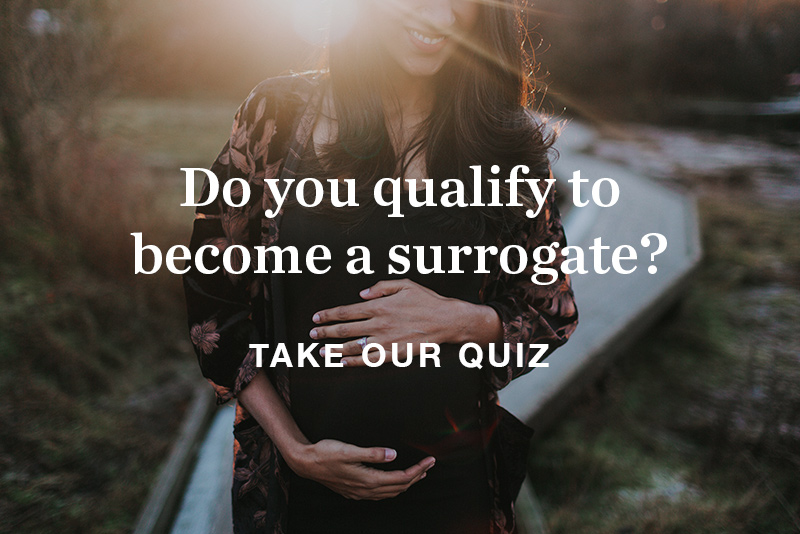 All our surrogates meet the criteria below! If this sounds like you, you may qualify!
Has delivered a child of her own, and is currently parenting at least one child.
Is between 21-45 years of age.
Not a smoker or recreational drug user
Lives in Canada
Now, In addition to the main criteria. One thing we often find missed and so important, are you willing to share a pregnancy with people who start out as strangers. For many of us, we were pregnant alone, or with our partner and it was a very intimate experience, or for some lonely. Allowing people to be a part of it is huge, and we encourage all potential surrogates to really begin to reflect on how they will create healthy boundaries to share this journey with strangers, who will hopefully become an extended part of your family.
Step 2. Book a call with one of our surrogate mentors
Now you met the initial requirement! Before we ask you to fill out the complete application, we'd love to get to know you, and for you to get to know us. During this call, you will have a chance to ask all the questions, and please know, partners are welcome to participate in this call too!
Once you've had your initial call, you'll begin filling out the application. One of our clinic's reproductive endocrinologists will review your application to ensure that you meet the necessary requirements to move forward. Once approved, your profile will be shared with the intended parents, and their profiles will be shared with you. This is a crucial step in the surrogacy process and can lead to a successful match.
Step 3. Matching With Intended Parents
We have found over the last 17 years, that every Surrogate who enters our program is looking for something specific, and we do our best to always ensure we are able to meet a surrogate's criteria.
Here are some things to think about for your intended parent match:
Am I open to matching with parents from outside of my community and from another country?
Do I want to help a single person, a heterosexual couple or a same-sex couple?
Would I be willing to travel outside of Canada for the fertility treatments? (some couples use clinics in the US)
After you review hopeful parent profiles, if you both agree. We will set up a video call, with a support member from our team. In the call, we will help ask questions that will get to the heart of whether or not the match will be a good fit for you.
After the call, we will ask if you'd like to continue communicating with the Intended parents. If you say yes, then we begin moving forward to the "get to know" stage of the process.
Once you are comfortable with moving forward to the next step, meeting the fertility clinic, we will then move to the medical process.
"That's a Match!"

As we say at CFC
Ready to start?
If after reading the above, or checking out our other blog posts you are ready to check us out, reach out. We can't wait to have you as a part of the CFC Family! You will be a part of an amazing Sisterhood of over 300 Surrogates who are currently participating in Surrogacy. Who knows, many of them may be located in your Community.
Click here to book a call! or to get more information on the CFC Difference, and why 17 years of service means something so special to the Surrogacy Community!