Welcome Lightweight Champion of the World…..Rocco Lucci Lorito! This bold little fighter took the title with a two punch knockout on Sunday February 26 and flew straight into the arms of his mother!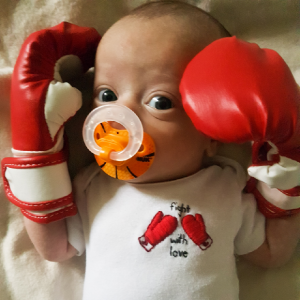 Its true! He's here! Everything went great. Rocco's surrogate Christine is an incredible being with such strength and determination. What an honour to have taken this journey with her.
Thank you for the enormous outpouring of love and support. You helped a woman with Cancer become a Mum. You chose to bet on me and my little fighter – to survive and to thrive. My boy is alive because of you. You made him real. You made my dream come true. Your hearts are all a part of Rocco. Thank you!
Eight years ago I started the adoption process. Four years ago I was diagnosed with Leukemia. Now I am a Mum. Something I have learned from all of this – adoption, cancer, ivf, fundraising, surrogacy, parenthood – is to:
Prepare as if all you wish for is on the way
Assemble a kickass team
Work really really hard
Wield the power of positivity
Be brave
Be proud
Be grateful
No matter what your story is, whatever your dream is, keep going, against all odds, fight, against all judgement. Look around and find those who are in your corner, who are standing up and fighting right there alongside you, cheering you on. They are your light.
Go Rocco is proudly going forward and continuing to help others with Cancer make families. We are live on The Raise-an-Artist Project with a wide selection of artwork and art services. A portion of proceeds from all contributions made to Go Rocco will be donated to Fertile Future's Power of Hope Program that helps men and women diagnosed with Cancer preserve their fertility.
Oncofertility is an incredible field of scientific advancement and hope. Go Rocco is honoured to support it. Be sure to follow Go Rocco on Facebook, Twitter and Instagram.