I guess as the first post, this should be more of an introduction than anything else, right?
For those who follow CFC, be it intended parents or surrogates, you probably saw a lot of my first journey in 2015-2016 as my parents were VERY public. But for those who are new. Let me start by telling you a little about me.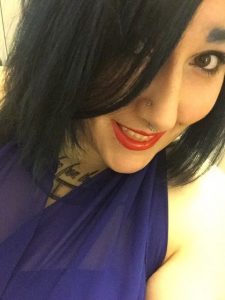 My name is Jess, I am 26 (which I realize is young on some of the surrogacy scales), and I live in the province of Alberta. I have a very vivacious six year old girl, who butts heads with me in about 80% of our interactions. She's just as strong willed as I would like her to be, but until she's a grown woman, it's going to be quite the struggle. (But isn't that all parents of a girl? I hope so haha)
As mentioned above, I completed a surrogacy journey in April of 2016. Again, another girl. (I swear it's a curse. LOL) I met her intended parents immediately after signing up. By met, I mean emailed, because the two men I was matched with live in the south of France.
I was lucky enough to have seen them twice, in France, during my journey. I surprised them right after I was confirmed pregnant, to go to their wedding. (Disclaimer: Probably not a good idea, lots of things could have gone sideways. I was lucky. LOL) And again later on, so they could have a 3D ultrasound done in France that they could keep for themselves.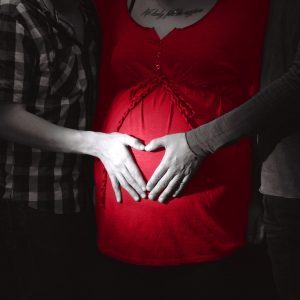 And then they came here in March of 2016, anxiously awaiting the birth of their very active little baby. (This is normal. Intended parents come to where the surrogate lives, and stay for the birth, and then depending on if they are international or not, will depend on when paperwork is cleared to take them home) So we waited. My due date on the 26th came, and passed. So did the 27th, the 28th, and so on and so forth. It seemed like everyone around me was having their babies, and I felt like my pregnancy was never ending.
But finally! On the 7th of April, they went to pop my water to see if it would help, (I'm an early dilator) and there was meconium in her fluid, so off to the hospital we went. A lot of Pitocin, a lot of contractions, and about 7, or 8 hours later, out she came all beautiful and perfect. Her dads were over the moon. And I knew that this was something I had to do again.
I had already knew who I wanted to help. Our company generates interest amongst surrogates by showing us biographies of intended parents on a private group they have started for us. There were two men who got posted just before I gave birth that generated a lot of interest among women, both new and experienced. They looked fun, and laid back, and seemed to have a really good idea of the kind of experience they wanted from surrogacy. And they had this cute black and white picture with blue and pink tea cups.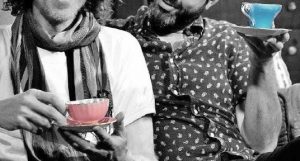 To respect their privacy, we will just call them J&V. I tried to swing weight as an experienced surrogate to see if they would wait until I gave birth, and wait for me. It happened quite effortlessly as they were okay waiting to match until after I had given birth. So fresh off an epidural and a lot of fluid, we started to talk.
Now, just as a note to first time surrogates or potential surrogates. It does not get any less nerve wrecking waiting to see if they want you to be their surrogate. Its really easy to fall in love with profiles and pictures and stories of struggle. Lots of us feel pulled, and a lot of us in many different ways. Some are pulled to women who struggle, so will want to match with intended mothers. Some people, like me, deal strictly within the homosexual community. But we all have our reasons as to why we feel pulled to the couples we do.
But this time around, this set of intended parents are a lot more laid back than my first set. My first set went from 0-100, talking all day every day. This wasn't like that. There were times where we wouldn't email for days. And I would send an email just to check in, cause it was so far from what my normal was.
We were set to transfer in October, and just like their surrogate, they were particular as to who they wanted to choose as a donor. I found out in August, that I could transfer sooner, as my birth was vaginal and uncomplicated. And then it seemed like it was a scramble for a donor. September passed, and so did October. November came and they were trying to see the soonest date she could do her retrieval. She let them know that due to her personal circumstances, she wanted to wait until after the holidays, and fly to donate in January.
Again, another note. Donors drop out all the time. I was terrified. I've seen many journeys be stalled by donors not showing up, not having legals cleared, and 1000 other reasons under the sun. But no matter the reason, we get stalled, and so do they.
But she flew and donated! Yay! No stress. They advised us that 20 embryos were fertilized, and at day 3, they were all good. But between day 3 and day 5 of aging, we lost all but two. Okay, two embryos. I can do two. But after PGS testing (something at the request of intended parents) only one was viable, but it was perfect.
One. Just one. No pressure.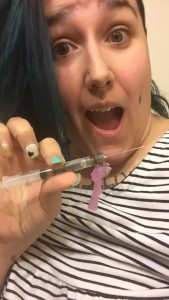 So I start to cycle, and start the meds, book travel and all the hectic things that happen within the days prior to transfer. (Schedules are always tight right before your implantation. It's a bit of a whirlwind, but it does work quite seamlessly 99% of the time)
Needles start just days before transfer. (You can choose another option, this is just easy for the life I have currently.) And we end up transferring on Valentine's day. It was so special for them, as the day holds multiple significance for them throughout their relationship. And then the wait began. Blood test to confirm pregnancy doesn't happen for 12 days after transfer. Which basically feels like 3 years in surrogates lives.
So we pee on things. We pee on A LOT of things. Probably way earlier than we should. We probably spend more money on tests than we do on gas that month, peeing on the early response/the ones that are more sensitive.
So I started WAY too early. (DO NOT do this if you get easily discouraged) but to my surprise, after a couple negatives, I swear I saw the faintest of lines on a test, and automatically tested on one of those sensitive tests.
I was so afraid to show my new intended parents as this was their only embryo, and I couldn't imagine telling them if it ended up being a chemical pregnancy. (A chemical pregnancy is a pregnancy in which the woman tests positive for pregnancy but miscarries before anything can be seen in the uterus on ultrasound)
But they kept coming. Darker and darker they came, so I showed them, with a really solid line, and got to tell them that we were pregnant. It is always one of our favorite moments. There are not a lot of things they find out from us, and not from doctors, so it is something we hope we get to surprise them with.
So we're just doing our betas now. But this baby is sticking, and we're HYSTERICAL. <3