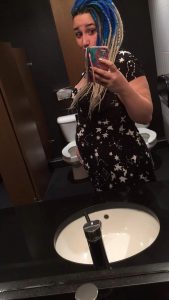 I'm sorry! I've been on a little bit of a hiatus as of late. Trying to brainstorm new ideas as to have things to talk about other than my quite boring and uninteresting life as of late. So here I am, with another topic, and some more about me, cause I finally have updates of sorts.
This week topic is about choosing a company. (if that's something you're looking into)
So in Canada, there are three major companies that help surrogates through their matching journey, right until postpartum. Now for me, when researching companies, I emailed all three of them to see if I could get a feel for each one.
One company didn't even respond to my email. So that was a no go.
One company didn't care to talk to me if I was not ready to sign up that day. I didn't want to feel like a number, or be treated like one cow in a herd of cattle. (I don't mean that as offensively as that sounds LOL)
And then Canadian Fertility Consultants emailed me back. We wrote back and forth for a few days. They sent me an information package, and discussed when I was looking to sign up or be pregnant.
It wasn't until I received a call from one of the support workers that I knew it was who I wanted to be with.
I asked some girls in my company, and got some answers as to their reasonings.
J: "Well probably because a friend of mine went through them. I actually did do a bunch of research though before hand and the other ones seemed either to new and I wasn't sure about them and even with the legal stuff I sort of felt like surrogacy laws are to grey and weird anyways and wasn't really concerned. Plus the idea of all the hippie things. I like that"
J: "I kept seeing posts on Facebook about them. They were they 1st company that showed up when I googled surrogacy.
After having a couple of emails back and forth and speaking to Angie. I knew I chose the right company"
R: "First because I knew someone else who was using them, then after some research I felt they were the best fit for me."
H: "I felt that the support offered by CFC and the other surrogates would far outweigh the support that was provided by other agencies. I feel that CFC was extremely transparent with the intricacies of surrogacy, which included the hard side of surrogacy."
Either way, whether you choose a journey with CFC, or another company, or if you are ballsy enough to go independent from the start. I urge you to research, find the right fit for you. Find the place that you will love your journey, where you are treated with respect. Where your values line up from what you wish to take from surrogacy.
Anyways, enough about all that, and a little about me!
After a pretty intense seven week course, I got to perform as a burlesque dancer for the very first time. Despite nerves and nausea, and my now growing stomach. (Let's not talk about that, I'm only 12 weeks. LOL) It really refueled me since Jeff moving away. It made me feel good, and I got to see so many of my favorite performers showcase their talent, and really has me driven to practice more and study harder, and become one of them. Fingers crossed.
But! Big update!
One of my intended dads got to be here on Friday, and even though it was just for a day, it was the 12 week ultrasound. The baby is growing perfectly and was dancing around inside my uterus. (Which was super strange because I could see it on the screen, but couldn't feel anything. LOL) And of course, just like ALL my other pregnancies, this baby did not want to be in the proper position for the NT measurement, so I get to go again in a few days and hope for the best. (I never ended up getting the measurements for my previous 2 pregnancies because of the position the baby needs to be in, so I'm not holding my breath.)
So I have yet another on Wednesday, yay for full bladders… NOT. Fingers crossed that they can get this measurement, and I wont have to come back AGAIN.
And we hit the second trimester, so MAYBE, they will start to tell their families. I'm sure after seeing the baby and getting the pictures, the excitement will be too much to bear. We are out of the red zone, so now it's time to share the big news. Hopefully I will get to see, or something, it's exciting for me too! I can't believe they have waited this long already! I would be bursting!
(I totally ended up asking them if they started to tell people before submitting this, and they have! They say their families are super excited for them, and one of the Grandma-to-be wants to start knitting already. It is so sweet to hear about the excitement they have. These are the moments we cling to, the reasons we do it.)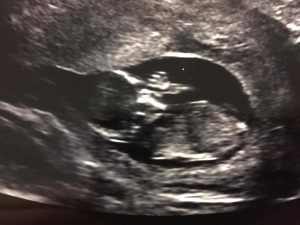 There it is! In all its glory, with all ten fingers and ten toes.
They were pretty surprised you could see the whole hand.
It was the sweetest moment for me <3